For over 90 years, Triangle Press has provided its clientele with quality, service, and reliability. We produce exceptional printing at a
reasonable price, with friendly and professional service.
Triangle Press is recognized as a WBENC - CERTIFIED WOMEN BUSINESS ENTERPRISE.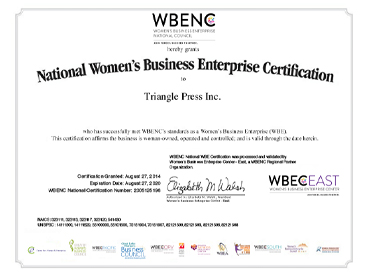 Click to see our Caapability Statement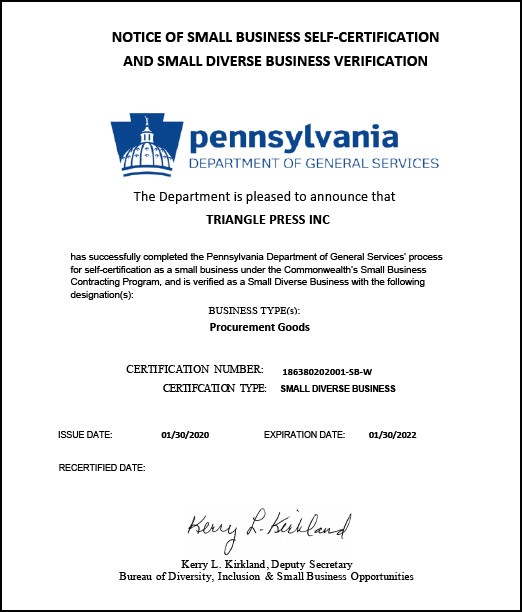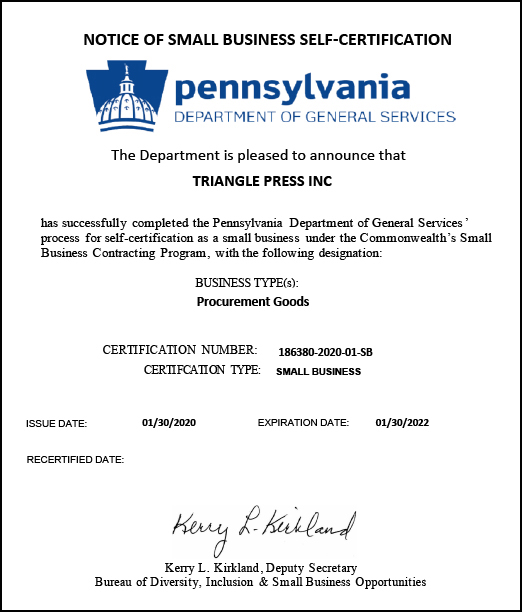 Triangle Press is proud to have been selected as a Costars-9 provider, offering products and services to school districts,
municipalities, and other organizations at very competitive prices.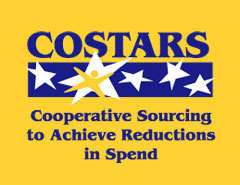 We offer in-house comprehensive digital pre-press services. Our pre-press department combines a fully electronic workflow
which includes pre-flighting, digital proofing, and direct-to-plate imaging. Our professional graphic designers have many
years of experience and the knowledge of numerous design programs in both Mac and PC platforms.
Our repertoire of skills and resources allows us to design, print and fulfill orders for annual reports, books, magazines,
including monthlies and quarterlies, marketing pieces, brochures, forms, letterheads, and envelopes, along with other forms
and documents.
As a full-service, total print and digital solutions provider, Triangle Press has capabilities that go well beyond our equipment.
Our talented staff is qualified and ready to provide these services and many others—
• Graphic Design
• Wide Format Print
• Digital Print – Variable Data
• 5-Color Offset Print
• Foil Stamping / Embossing
• Mailing
• Fulfillment
Click to see a complete list of services.
Commonwealth of Pennsylvania e Marketplace (SAP)
Pennsylvania State Vendor Registration Number: 186380
Pennsylvania Department of General Services
Certification Number: 140331Triangle